Service for business
Regular routes for staff.
Reception and movement for managers
Meetings
Business parties.
Coordinate visits to workplaces.
Visits, trips, cultural journeys, championship.
Weddings and other celebrations.
Coordination of congress, celebrations.
School transport services
Our workforce known for its high responsibility, seriousness and constancy in the company, so we offer all the confidence and security that you need when it comes to choosing a school transport service with full guarantees. Contact us and we will inform you of the characteristics of our service.
Activities and school routes around the entire province: pick-up and drop-off students.

Additional activities: transfer, visits, trips.

Extracurricular activities: end-course trip, camps.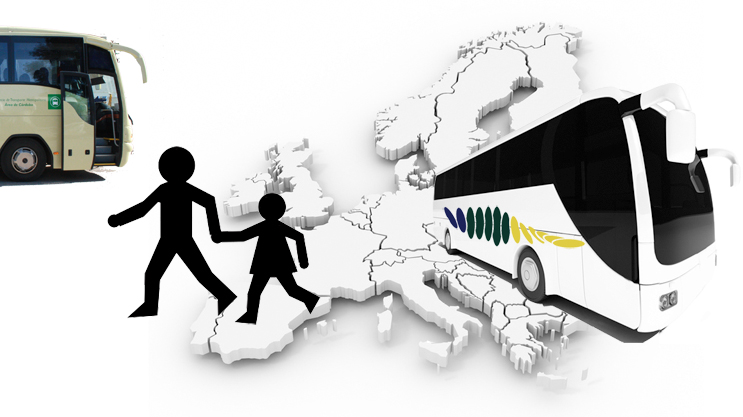 Regular routes
Regular routes from Córdoba to Almodóvar, Posadas and Hornachuelos.
Regular routes around Los Pedroches de Belalcázar, Hinojosa del Duque, Villanuva del Duque, Fuente la Lancha, Alcaracejos, Villaralto, El Viso, Añora, Dos Torres y Pozoblanco.
Regular routes from Pozoblanco - Villanueva de Córdoba - Estación de Autobuses.
Regular routes from Posadas, Almodóvar del Río, Hornachuelos.
Regular routes from Córdoba, Villanueva de Córdoba, Pozoblanco, Santa Eufemia, Alcaracejos.


Rental and hiring of coaches in Cordoba
Our fleet equipped with the latest technology.
Services
Coaches San Sebastián offers a huge range of coaches with different numbers of passengers ready to do any type of service in Spain or abroad: weddings, stag-parties, tours, transfers, trips, citytours, school routes, o whatever occasion where you need to use a coach.
Weddings and other celebrations
The best way to bring all your guests is hiring bus and rent wedding.
Regular routes
Metropolitan routes in the province of Córdoba.
Discretionary services
Transportation services according to the specific needs of our customers.
Conferences and Events
We handle all the logistics associated with large movements of people.
Corporate Party
Organise a safe transfer for your party, Christmas dinner, bachelor... p>
European circuits
National and international circuits. Visit Europe with our coaches
Transfer Airport/Renfe
Avoid language problems, deceit and surcharges with our shuttle.
School transportation
Our buses transport thousands of students from their homes to numerous colleges.
Business Transfers
For daily transfers of personnel, regular services to companies, institutional visits.
Sports Events
Transport clubs, sports clubs and associations.
1 day excursions
Rent a bus for day visits, field trips and cultural associations.
Extracurricular activities
Students conduct or activities: Prom travel, cultural tours, farm schools